Hello all! This is post number 800!
Today I have photos, as well as the intro to a new feature here in Flea's World. Photos are of my darling child, sewing his own shorts. While he's wearing them. Ten minutes before he leaves for the bus. Always a fun sight when mom stumbles out half awake.
I asked him to stop and change pants.
He's a boy scout - what can I say? He wore them. *sigh*
Now! My good friend, Heather, recommended my new regular feature. She's the fearless, peerless leader of the writer's group, and I was shopping Salvation Army with her just last week. Isn't she cute?
We were shopping for useless items - someone else's trash - to use as writing prompts in our meeting last Saturday. You lack for a good time? Take a friend to your closest SA or Goodwill with the intention of buying useless crap just for fun.
After the meeting, Heather turns and hands me the bags of useless crap, which I politely hand back, muttering something about not wanting them lying around my house and my Hunny having a conniption if I bring them home. Then she comes up with her brilliant plan, albeit in an effort to avoid bringing the useless crap to her house - post a photo a week of the items and ask y'all, my bestest friends in the entire world, to write a story about it. The most fun story (you all will vote on it) will get the piece of useless crap.
Wait! Don't go! Here's the best part! The challenge for the winner is to post the useless crap, along with the winning story, on EBay and see if it brings in any moolah! Doesn't that sound like fun? Doesn't it?!? It does! You know it does!
Short of the EBay thing, you can always pawn it off as a white elephant gift at some party.
So tomorrow I'll be posting the first photo - it's a doozy - and y'all will have till next Thursday to write and submit a story. Write it on your blog, or email it to me (I'll have the particulars up with the photo). Then another week of voting. Every Friday, or every other Friday (we'll see how this goes), I'll post a new photo!
Well. Now that I've dropped THAT loser of an idea on your heads, it's time to skeedaddle!
center>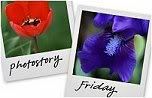 Hosted by
Cecily
and
MamaGeek